Paper to Paint: Ap-ART-ment Advertising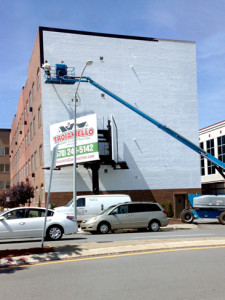 We recently had the opportunity to work with Milestone Outdoor on a hand-painted ad for a residential real estate developer in eastern Pennsylvania. In the past, we've worked on wrapped vehicles, island displays, and pop-up exhibits which involved printing directly to the substrate or vinyl, but this one was different.
DFM Properties had just completed the buildout of 317 Linden Apartments, a property of 1, 2, 3 and 4-bedroom luxury apartments in eastern Pennsylvania. DFM was seeking a unique way to get the word out about the apartments to a mix of university graduate students and young professionals. The property features an on-site restaurant and fitness facility as well as other upscale amenities that appeal to the target audience's living preferences.
Milestone Outdoor, an outdoor media company who specializes in hand-painted advertising, hired Schum & Associates to complete the artwork for a 50′ x 50′ end wall of the property that faces a main street with a high level of daily foot and vehicle traffic. Original, brightly-colored illustrations were created to reflect the property's many great amenities and unique offerings.
While vinyl and cloth banners are faster to install, the traditional hand-painted method has a few major advantages. For instance, the process of scaling the artwork and painting, which often occurs over a few days, draws a huge level of interest from the public. Crowds of curious onlookers will stop on their way to work, lunch breaks, or home to watch the painters complete their work. It's a performance in an of itself as people watch the big reveal occur.
We're looking forward to more of these projects soon. Though it's a huge reward seeing every project come to life, seeing it produced larger than life makes it just a bit more special.